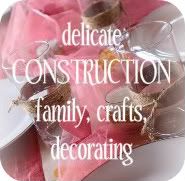 I was already feeling like I was having a great Monday, a great start for a new week, and then I just found out I was featured on yet another blog. Wahoo! Delicate Construction featured my "Little Bug Calendar" I made. If you missed it, just click on the Little Bug title and it will take you to the post.
Delicate Construction is another awesome website that features a lot of fun Arts and Crafts projects both for Mom and Kids. Michelle is one creative gal. Hop on over to Delicate Construction where Michelle is hosting not only a fun Kids Related Link Party, but also a giveaway for a box full of crafting materials. Don't forget to link up to my link party "All Things Wonderful" as well.
Thanks again Delicate Construction.